Illinois Dog Bite Resources

Chances are good that if you are browsing a website about the Dog Bite Laws in Illinois, someone in your family has been bitten by a dog in Illinois or your concerned with preventing such an attack.  On this page you can find a variety of information about protecting your family from dog bites in Illinois and, should the worst happen, gather the resources you need to hire an Illinois dog bite lawyer to protect your legal rights and compensate your for your injuries.
Frequently Asked Questions

This is often the first question we hear, and it is a difficult one to answer because every person and every situation is different.  For instance a dog bite on 35 year old man that required no stitches and a quick trip to the emergency room probably does not need a lawyer.  However, the exact same bite on a 5 year old child has a far greater impact with profound implications on that child's development.  In the child's case, a lawyer can make a tremendous difference in helping the family navigating the claim through the Illinois Dog Bite laws and maximizing the child's recovery.
Many lawyers are afraid to admit that not every case needs a lawyer.  The truth is that if you were not badly injured or you did not seek medical attention, there is very little that a lawyer can do to help.  However, if you have questions about your treatment, the dog bite laws in Illinois, or how you can recover compensation, call an Illinois Dog Bite Lawyer.  Consultations are free and there is no harm in speaking with a lawyer that has handled bog bite cases in Illinois before.  Lawyers will deal with the insurance companies and their unfair adjusters, taking the headache and worry off of you.  This allows you to focus on working with your doctors to recovery and regain your health.
Lawyers in Illinois cannot advertise themselves as being "the best" at any one particular area of the law, including dog bite cases.  However, not all lawyers handle all types of cases.  Just like doctors, lawyers tend to focus their energies and attention on specific types of cases.  For instance, the BiState Injury Law Center focuses on cases where someone has been injured, like a dog bite claim.  When trying to select a lawyer to help with your Illinois Dog Bite Case, there are a few questions you should ask.
Questions You Should Ask Your Illinois Dog Bite Lawyer
How much does it cost to hire a dog bite lawyer  to handle a case like mine?
Different types of lawyers charge their clients in a number of ways, but almost every Illinois dog bite lawyer works on a contingent fee.  This means that you pay nothing unless you win the case.  Our fee is 33% of the amount we recover for you.  If you do not win, we do not get paid.
How often will you contact me? What is your communication policy?
One of the most common complaints we hear from clients that are upset with their current dog bite lawyer is that their lawyer never calls them or they do not know what is going on with their case.  At the BiState Injury Law Center, we believe that the more the client knows, the more empowered the client becomes in their recovery and the stronger the case we can present to the insurance companies and to juries.  To create this empowerment, we employ an energetic team environment, where our entire office actively works on your case.  A number of our team members will contact ever month, in writing and over the phone and happily arrange face-to-face meetings. More importantly, our lawyers give our personal cell phone numbers to our clients.  If you have a question, you need an answer – fast!  We do asking that clients schedule specific times to speak with the lawyers so that they are prepared to answer your questions and are focused only on your case.  There is never an excuse for not being informed about your case.
Have you ever handled a dog bite claim in Illinois?
It is important to hire a lawyer that has experience in handling dog bite claims.  Once they receive their license, every lawyer can legally handle any type of case in Illinois.  However, that doe not mean they know the right questions to ask, the proper investigation methods, or how to present a dog bite claim to a jury in a courtroom.  Dog Bite claims in Illinois are controlled by common law and by statute.  You need a trial lawyer that knows the law and the techniques necessary to win your case.  The lawyers at the BiState Injury Law Center have handled dog bite claims across Illinois and have represented children and elderly adults in many of those cases.
If you were attacked by a dog and bitten, you should take every precaution and seek medical attention immediately.  However, the odds of you contracting rabies are extremely low in the United States.  We have written an article with the history and facts about rabies, as well as how to protect yourself and your pet from rabies – read
The Truth About Rabies.
Keeping Kids Safe From Dog Bites

Safety Tips For Your Children Around Dogs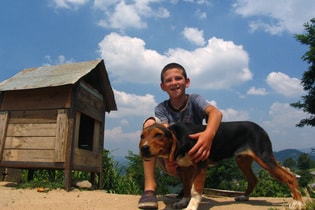 Growing up with a pet can be very beneficial for children, such as teaching responsibility, improving self-esteem, and providing them with a loving companion.  However, children are also one of groups at highest risk of being bitten by a dog. In order to decrease that risk, children must be made aware of the risks, both of having a dog in the home and of dogs outside of their home.
A few simple lessons to share with your child to lessen the risk of dog bites:
"Stranger = danger" does not apply just to people.  Children should never approach strange animals, especially stray dogs.  They should not be terrified of such animals, but they must appreciate the danger of approaching a strange dog.

If a child does want to approach a dog outside your home, you should ingrain a few simple steps:

Ask their parent for permission to approach the dog.

Ask the dog's owner for permission to approach the dog.

Hold your hand out, palm down to let the dog smell the child's hand first.  Do not approach the dog form the back or directly from the front – always approach the dog from the side or at an angle.

If the dog does not pull away or make any aggressive or defensive movements, the child may pet the dog.

Always closely supervise your child's interactions with a dog, even your family animal.  Monitor both the child and the dog – a child may not realize that it is being too rough with an animal, causing it to lash out.  Many babies have been nipped or snapped at by dogs because the baby gripped the dog's ear and squeezed. A baby's cry or a young child's squeal of delight may make a dog feel threatened and attack. Always discourage rough play with the animal that may get out of hand without warning.

Never touch a dog that is sleeping or eating.  The dog may be surprised and lunge out at the child, or it may defend its food and territory.  There is a reason for the saying "let sleeping dogs lie" – waking them may result in a child getting bit.  Place your dogs sleeping spot away from high traffic areas of your home and teach your children to call the dog awake before approaching it.

Feeding the family dog should be done only by adults or under close adult supervision.  This includes giving treats to the dogs.  Even a good natured dog can jump onto a person in anticipation of food or snap at fingers to get at the food.  Dogs must be trained what behavior is acceptable during mealtimes and around food; without proper training, feeding times can be recipes for disaster.

Teach your children about the dog's behavior. Just like human beings, a dog's body posture gives strong indications of its mood and state of mind.  A dog should be left alone if it is growling, curling back its lips, has hair standing on end, backs away from you, or stares at a human, making eye contact.
What Should I Do After A Dog Bite

Protecting Yourself and Preserving Your Claim After A Dog Bite
Remove yourself from the situation right away. Leave the area where the dog or other animal attacked you and contact the police immediately.
Tell the police exactly what happened and make sure to include the names and contact information of anyone that saw the incident.  They police will also ask you about the dog that attacked you.  The more specific you can be in providing information about the dog, the more likely the police and animal control will catch the animal.  This will also help your dog bite case later.
Seek medical treatment right away. Dog bite victims may not be transported immediately to the emergency room, and are often treated at the scene by emergency medical responders. Sometimes, you may have to transport yourself to a hospital or doctor's office. Do not wait to receive medical attention. Seek follow-up care from a docto immediately, and do not ignore any pain or discomfort. A small pain now could be an indication of a larger problem that will manifest later. For instance, a cut or other laceration could become infected and a bite wound can permanently scar if not treated immediately.
Follow Medical Precautions After a Bite. Read more Here about how to care for a wound after a dog bite.
Do not speak to any insurance claims adjuster. The animal's owner or the owner's insurance may try to contact you for a statement. The insurance company has no motivation in helping you get the treatment and compensation you deserve. In fact, the insurance adjusters may work against you to minimize their financial exposure. These statements can later be used against you, and anything you say when you are scared, in pain, or unsure of what is going on can severely limit your ability to receive just compensation for your injuries.
Make sure the police have created an accurate police report of your accident. Request the officers and other officials send you a copy of any report they produce. Get the names of anyone investigating the scene and of the medical personnel.  Do not put off going to see the doctor for the sake of getting this information.  Your health is the top priority, and your Illinois dog bite lawyer can track this information down later.
Do not wait for the situation to resolve itself. The animal's owner and his insurance company have already put teams of legal professionals to work against you to protect their interests. Protect your legal interests and call an Illinois dog bite lawyer at (888) 519-2215 for a free consultation. Matthew Nagel and the attorneys at the BiState Injury Law Center will investigate the situation, collect the evidence, and hold people responsible to get you the justice and money you deserve.
Dog Ownership Tips To Prevent Dog Bites

Owners Preventing Dog Bites

Dog ownership is a wonderful privilege, where many people find loyal, loving companions.  But make no mistake it is a privilege that comes with responsibility. Often dogs that attack people have been neglected by their owners or mistreated in some way.  While that is not always the case, there are a few simple things that dog owners can do to ensure that their dog is a happy, loving companion and not a dangerous dog.
Bringing your dog around other people and animals helps it to adapt to strangers and strange environments, without becoming aggressive.  The younger you begin socializing your dog, the better.  Socializing your animal will make it feel less threatened by animals, environments and surprises, which in turn makes the dog less likely to lash out or attack.
Dogs that undergo obedience training teaches the dog discipline, as well as guidelines for proper behavior.  It also familiarizes the animal with verbal commands from humans and allows your dog to socialize with other people and animals at class.  Dogs are pack animals and crave structure.  By training your dog, you, the owner, become the pack leader.  In turn, this makes your dog less aggressive and less prone to attempt to assert its dominance.  Clear and consistent messages allow the dog to develop a comfort zone, where it less likely to attack.
Does require physical exercise.  Otherwise, they grow frustrated and act out in destructive ways, including physical violence against humans.  Exercise makes for a happy dog, and allows for additional training opportunities.  For instance, walking outside with its owner is both physical and mental exercise for a dog.  However, it is important to walk your dog – do not let it walk you.
Properly Feed And Water Your Dog
By providing a complete and balanced diet for your dog, as well as an ample amount of fresh water, the dog will not be forced to search for sustenance.  When faced with a lack of food and water, dogs become more aggressive and will defend what little resources are available.
Spaying and Neutering Your Dog
Spaying or neutering your dog prevents unwanted litters that result in stray dogs.  It also reduces your dog's aggression.